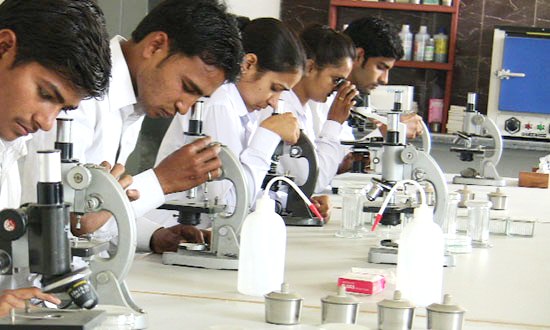 About the Degree Programmes:
---
We support the students to acquire Bsc Optometry which is a full-time undergraduate and 4-year degree programme. It has eight semesters of coursework. Out of these eight semesters, two semesters are training-based and taken in conjunction with Alagappa university, while the remaining six semesters are theory-based and completed in a classroom. It is ranked as a category-I university by MHRD-UGC and certified by NAAC with an A+ rating (CGPA: 3.64). This programme stands out from others because to its partnership with industry leaders in eye care and a cutting-edge national institute.

Optometry students have the option to specialise in a variety of fields, including paediatrics, learning disabilities, contact lenses, vision therapy, orthotics, and occupational vision. They get the ability to identify refractive error and recommend the proper remedies. They are also engaged in the diagnosis and treatment of a number of ocular issues. In clinics and hospitals, optometrists have a choice of working independently or in tandem with ophthalmologists. They may also work for optical businesses. According to MoHFW, students who complete their optometry programmes in fewer than four years will be regarded as ophthalmic assistants rather than optometrists. Unlike optometrists, who can work on their own, an ophthalmic assistant can only work under the direction of an ophthalmologist. A three-year, full-time curriculum leading to a diploma in optometry covers a variety of courses related to eye health, including retail management in optometry, patient management, and psychology. This diploma programme offers students a variety of employable skills in the medical and healthcare industries.

Students must develop knowledge in both academic and practical disciplines as part of their optometry diploma program's curriculum. These topics include basic optical themes as well as others related to human biology.A student of optometry must have a variety of abilities, such as critical thinking, communication, and a fine grasp of biology and other subjects, in order to practise optometry with the utmost efficiency and accuracy.
About the Department
---
Optometry is a healthcare profession dealing with eye and vision care. Optometrists are the primary healthcare practitioners whose responsibilities include refraction and dispensing, assisting in detection and management of eye conditions, and the rehabilitation of conditions of the visual system.There are currently 146 optometry schools and colleges in our country and the count of graduating optometrist is approximately 2,115. The demand is 10,000 Optometrist each year, and hence there is a short-fall of 6500 optometrist per academic year. For a country with 1.3 billion populations, there is a huge shortage of Ophthalmologist & Optometrist. Currently the ratio is 1 Eye care professional to 1,25,000 people. The aim therefore should be at least 1 Ophthalmologist & Optometrist for 10,000 people.
Eligibility
---
Candidate must have passed +2 / Higher Secondary / Intermediate with Biology or Botany or Zoology.
Admission Process
---
Register and Apply
Interested candidates can apply online or offline with the required information.
Placements
---
Recruiting Companies
Accor Group | Centaur | Club Mahindra | Crown Plaza | Dominos | ginger hotel | Green Park Hotels and Resorts | holiday inn | ITC Hotels | Le meridian | Lemon Tree | oberoi | Quality Inn Hotels | Radisson | Royal Orchid | Starwood Hotels & Resorts | Taj Group of Hotels | The Fern Hotel | Trident | Vivanta